September 30th, 2006 by Larry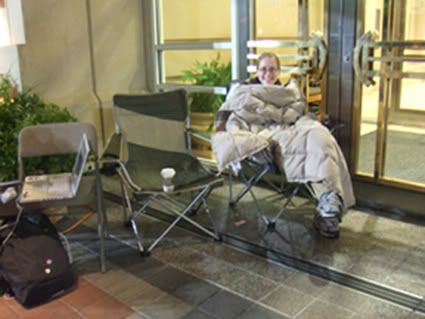 Lacey was the first person in line, and people were shocked that a girl would be first in line. Dirty looks were being shot up to the front of the line all day.
I'm glad we arrived crazy-early to Niketown Atlanta. It really paid-off as there were only three pairs of 10.5 available to the general public, one pair of 11′s and only three pairs of 10′s. This range consists of the most common foot sizes…meaning that if we weren't first in line, not all of us would have been able to score our respective sizes.

We were approached by people in the mall ALL DAY asking questions about why we were there in camping chairs. It got really annoying after a few minutes, but it didn't stop. From 10am to midnight, we were barraged with damn curious people. Some people were well-wishers, which didn't bother us too much, but other people were really RUDE and JUDGMENTAL, saying things like, "That is SO sad" and "Why would you waste your money on something like that"?
Why do people think they have the right to judge what other people deem important, and what they do with their time and money?
My only response to everyone is that I'm happy I have my Jordan Grapes, I work hard for my money, and collecting/wearing sneakers is enjoyable to me. This is really my only vice, so I don't see anything wrong with budgeting hard-earned money for something that makes me happy…even if people think I'm crazy. At least I have happiness in my life.
Most common questions were:
-"Ok, you got me…what are you guys in line for?"
-"Alright, I'll bite…what's everyone camped out for?"
-"WHAT ARE THOSE PEOPLE DOING?"
-"Shoes? What's so special about them? Do they make you jump higher?"
-"Are they FREE?"
-"How much are they?"
-"Are you going to sell them on ebay or actually wear them?"

It was freaking cold outside the mall at night. I didn't mind because I had my brand-new BBC/Ice Cream/Bathing Ape all-over print fleece blanket.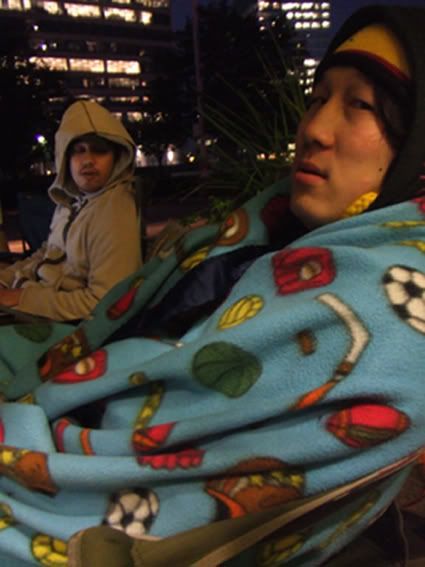 Like I said, It was cold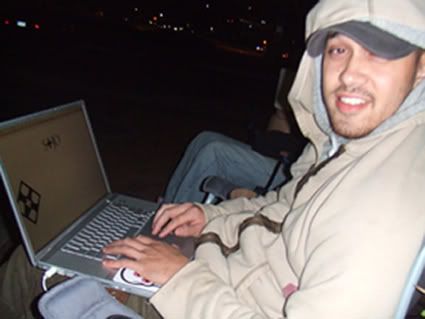 Jared was "stealing the mall's power" and finishing up some work for his final portfolio. Despite my constant badgering he wouldn't design a Pope hat with a band-aid on it for his Catholic Hospital logo.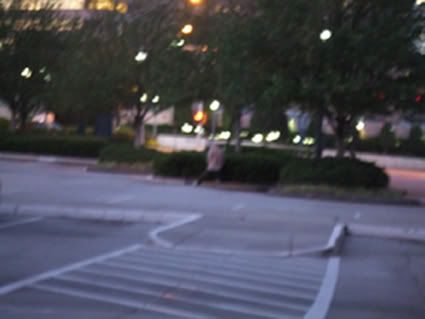 Taking a whiz outside the mall…soccer style.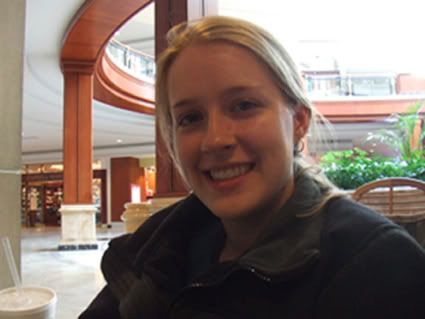 When the mall finally opened, Lacey claimed the official title of "First in line".

That dude behind me is Alex. He arrived about an hour after us and sat through the whole thing with us.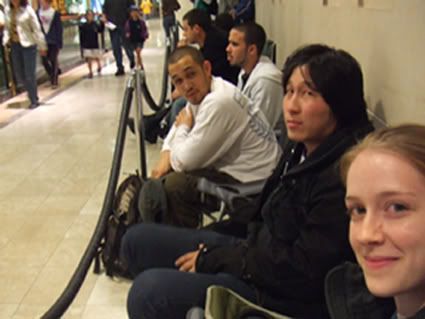 The first five: Lacey, Larry, Jared, Alex, Georgios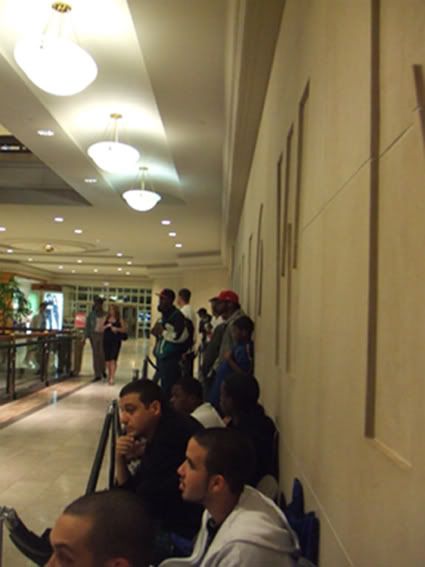 The rest of the line around 8pm. Georgios was sketching for Farshad's tattoo and people kept hitting him up to do free art for their rap album covers and tall tees. Especially all the "Fat & Nervous" resellers. (A reseller is a person who camps out for kicks just to flip them for a profit.) I guarantee you that there were a few nervous resellers. They were all fat and nervous…making me all nervous and aggravated. Stupid fat-nervous people…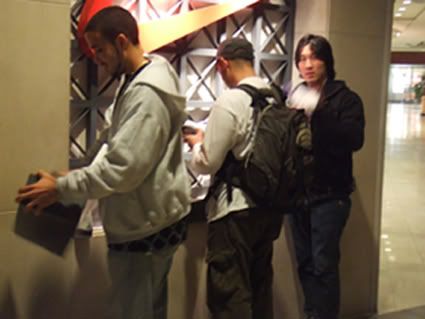 A first look at our grapes

The 30 hour crew. Georgios, Jared, Larry, Lacey, & Alex
-LL